Welcome to the Tell Us Tuesday party everyone! We're excited to see what you've been up to this week! Stop by every Tuesday to link up your latest blog posts and show off what you've been doing, then check out the other links and find new bloggers to follow, inspiration for new projects, parenting tricks, or a new yummy dinner idea.
Here's what your hosts have been up to this week...
Check out our trip to
Carter Mountain in Charlottesville, Va
. Preston had an
awesome
time!!
Check out my trip to
Salem, MA
- it was a fun fall day!
Also - make sure to read her recipe for
Peanut Butter Cheesecake.
Yes, please!
Food Features
Gorilla Bread
- it looks sweet, it looks warm - it looks perfect for the Fall/Holiday season!!
To. Die. For. -
Pumpkin Pie Cupcakes
. I will be making these this week!
DIY Features
You gotta love a
beautiful knit hat
for your daughter with a giant bow. Check out the crochet pattern here!
As we are all giving thanks during this season - this DIY project of a
Thanksgiving Chalkboard
is perfect.
Ladies Tellin' It Like It Is
Check out how Brianna is planning on
staying positive
these days and getting rid of the negative. Something I think most of us could try to do!
If you were featured, grab a button!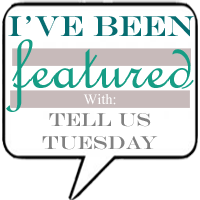 Now to
PARTY
! Just a few basic rules we'd love for you to follow:
-
Tell us
about your recipes, parenting tips, DIY projects, or your family vacation – we want to see it all!
-
Follow each of us
so you'll never miss a party. Follow on GFC, Bloglovin', or your favorite reader – we'd love to hear from you!
-
Add a party text link or button to your blog.
This helps us in exchange for letting 'ya link up! The more people that know about the party, the better.
-
Click around
– find a few links that interest you below and check them out! Better yet, leave them a comment and tell them where you came from!
-
Spread the word
– Share the party on Facebook and Twitter so more can join in the fun. The more people that find out about Tell Us Tuesday, the more it benefits you!
- We'd also love for you to
follow us on Facebook and Twitter
. We follow back!
- By linking up, you're giving permission for us to potentially feature your posts on the blog or social media.