Welcome to the Tell Us Tuesday party everyone! We're excited to see what you've been up to this week! Stop by every Tuesday to link up your latest blog posts and show off what you've been doing, then check out the other links and find new bloggers to follow, inspiration for new projects, parenting tricks, or a new yummy dinner idea.


Since this party is hosted by several bloggers, your links will be on multiple sites!
Here's what your hosts have been up to this week...

Check out how my husband and I have been downgrading financially to make a better cushion for our family. Budgeting is a great thing!
Now for some of the features from last week!
We picked
mint chocolate brownies
because Courtney's Mom will love these. Can you imagine adding mint chocolate chip ice cream to this!?
Super simple and it looks divine!!!!
Ritz Cracker pie
is where it's at!
DIY Features
It's officially Fall and we are always looking for something we could make ourselves to decorate our homes. I absolutely adore this
beautiful burlap wreath
!
I have always wanted to do some stencil work in my home and the Domestic Superhero did an
amazing job in her dining room
. Check out her beautiful makeover :)
Ladies Tellin' It Like It Is
Ever book a flight or a hotel room thinking you got a great deal but you find a lower price somewhere else?
Check out some sites
that help you with that!
If you were featured, grab a button!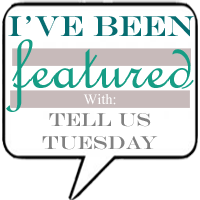 Now to PARTY! Just a few basic rules we'd love for you to follow:
-
Tell us
about your recipes, parenting tips, DIY projects, or your family vacation – we want to see it all!
-
Follow each of us
so you'll
never miss a party. Follow on GFC, Bloglovin', or your favorite reader - we'd
love to hear from you!
-
Add a party text link or button to your blog.
This helps us in exchange for letting 'ya link up! The more people that know about the party, the better.
-
Click around
– find a few links
that interest you below and check them out! Better yet, leave them a comment and
tell them where you came from!
-
Spread the word
– Share the
party on Facebook and Twitter so more can join in the fun. The more people that
find out about Tell Us Tuesday, the more it benefits you!
- We'd also love for you to
follow us on Facebook and Twitter
. We follow back!
- By linking up, you're giving permission for us to
potentially feature your posts on the blog or social media.