Welcome to the Tell Us Tuesday party everyone! We're excited to see what you've been up to this week! Stop by every Tuesday to link up your latest blog posts and show off what you've been doing, then check out the other links and find new bloggers to follow, inspiration for new projects, parenting tricks, or a new yummy dinner idea.


Here's what your hosts have been up to this week...
Homemade Cinnamon Sugar Almond Butter recipe!
A fun craft and healthy snack to do with your kids, complements of PBS Kids & one of their new shows.
Courtney has a fantastic giveaway going on over at One Fine Wire - win a free blog makeover! You have until September 25th to enter. She's even got a 35% off coupon code you can use. Check it out.
Now for some of the features from last week!
Hershey's chocolate syrup doesn't hold a candle to Katie's
homemade hot fudge
.
I've been loving all of Jazzy Gourmet's cooking tips. Her latest tip is
how to keep a pot from boiling over
- so smart and easy...it's a must-do.
Me, Myself, and Jen put together a fantastic tutorial for
custom french picture boards
. Check this out and make a few!
It's almost time to start decorating for Halloween, and these
mummy jars
are super cute! Craft night with your kids!!
Ladies Tellin' It Like It Is
Leslie over at Lamberts Lately has put together
6 different fall looks
, complete with links to the products themselves. Are you ready for warmer colors and sweaters?
Have you defined your blog niche? Check out how
Amy from Fabulously Ordinary
helped pinpoint what her blog is about!
If you were featured, grab a button!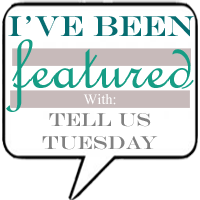 Now to
PARTY
! Just a few basic rules we'd love for you to follow:
-
Tell us
about your recipes, parenting tips, DIY projects, or your family vacation – we want to see it all!
-
Follow each of us
so you'll never miss a party. Follow on GCF, Bloglovin', or your favorite reader – we'd love to hear from you!
-
Add a party text link or button to your blog.
This helps us in exchange for letting 'ya link up! The more people that know about the party, the better.
-
Click around
– find a few links that interest you below and check them out! Better yet, leave them a comment and tell them where you came from!
-
Spread the word
– Share the party on Facebook and Twitter so more can join in the fun. The more people that find out about Tell Me Tuesday, the more it benefits you!
- We'd also love for you to
follow us on Facebook and Twitter
. We follow back!
- By linking up, you're giving permission for us to potentially feature your posts on the blog or social media.