Welcome to the Tell Us Tuesday party everyone! We're excited to see what you've been up to this week! Stop by every Tuesday to link up your latest blog posts and show off what you've been doing, then check out the other links and find new bloggers to follow, inspiration for new projects, parenting tricks, or a new yummy dinner idea.


This week's guest host is the fantastic Kaitlyn from Wifessionals. Kaitlyn is a newly married 20 something lady who found the married the man of her dreams and moved across the country to begin life as an Army wife. Her blog is her confessions of what it's like to be a wife - or, rather, Wifessional. You can find her here:
Want to wow your friends with an impressive cake? Check out this how-to, and you'll be able to
make this shark cake
too.
A fun day trip to Cooperstown, NY (baseball central)! Great museum, good food, and a cute downtown makes for a great stop in upstate New York!
Read about the cute sleeping bag/pillow combo Courtney found & weigh in on the "pillow timing" debate.
Summer's over and Courtney is back to work - how are you making your end of summer transition?
If you live in Central VA, you need to visit Jumpology - a floor of trampolines is great fun for todlers to teenagers (and their parents...). Check out Courtney's first visit.

...And don't forget to check out Courtney's new Etsy shop - Flower Lace Prints
Now for some of the features from last week!
These
homemade Payday candy bars
took me back to my childhood - I can't wait to make these!
Just when you thought
Banana Bread
couldn't get any better...this recipe has chocolate chips
and
butterscotch in it.
Alexis threw a beautiful
tea party for her daughter's 3rd birthday
! Check out her table, the food, and what the girls wore. Super cute.
This
3-D nail art
from akaBailey is blowin' my mind. Perfect for when painted dots just aren't enough. Most importantly...apparently it's easy to do and they don't fall off!
Ladies Tellin' It Like It Is
Sara at Sew Loved is doing a series on
putting together a wardrobe
so you'll always have something to wear. Check out part 1 here - Sara....will you be my stylist? :)
Check out Strength and Sunshine's latest motivational post about
living in the present
. In today's fast-paced world, we all need to pay more attention to this.
If you were featured, grab a button!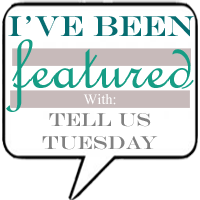 Now to
PARTY
! Just a few basic rules we'd love for you to follow:
-
Tell us
about your recipes, parenting tips, DIY projects, or your family vacation – we want to see it all!
-
Follow each of us
so you'll never miss a party. Follow on GCF, Bloglovin', or your favorite reader – we'd love to hear from you!
-
Add a party text link or button to your blog.
This helps us in exchange for letting 'ya link up! The more people that know about the party, the better.
-
Click around
– find a few links that interest you below and check them out! Better yet, leave them a comment and tell them where you came from!
-
Spread the word
– Share the party on Facebook and Twitter so more can join in the fun. The more people that find out about Tell Me Tuesday, the more it benefits you!
- We'd also love for you to
follow us on Facebook and Twitter
. We follow back!
- By linking up, you're giving permission for us to potentially feature your posts on the blog or social media.